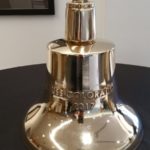 On Veteran's Day a copy of the ship's bell which will become part of USS Colorado (SSN 788) was unveiled at the annual Veteran's Day Program at CU Boulder. CU Boulder's University Memorial Center (UMC) is a tribute to all Colorado veterans, men and women, who have served or are currently serving our country and is Colorado's Official Veterans Memorial. It contains several artifacts from battleship USS Colorado (BB 45) including the ship's bell and stern pilot wheel. Last year on Veteran's Day, the Ship's bell that saw service on both the first and second USS Colorado's was unveiled in the UMC, having been found in a Navy History and Heritage Command warehouse in the Washington, DC area. In order to accommodate the second bell, over the past year the UMC was renovated and this Veteran's Day marked the official opening of the newly renovated Veteran's Memorial Lounge.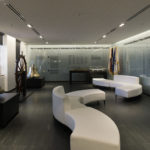 The Battleship Colorado Association commissioned noted Colorado sculptor George Lundeen to make a specially inscribed bell to donate to the submarine. It is the second copy of this bell that was donated to the UMC.The original bell will be presented to the boat at Commissioning ceremonies late next summer.
The program featured welcoming remarks by Christina Gonzales, Vice Chancellor for Student Affairs, and the featured speaker was Colonel Issac Pelitier, United States Army and CU Boulder Alumnus of the Class of 1992. Colonel Pelitier currently serves as Commander of the 10th Special Forces Group (Airborne).