At their annual Veteran's Day Program held this year on November 10th, the University of Colorado Boulder hosted two of the veterans who served aboard the battleship USS Colorado (BB 45) during World War II. Ken Jones and Jack Paris and their families visited to see the unveiling of additional artifacts from the battleship that are now on display in the University Memorial Center (UMC). The display includes the ship's foghorn, uniforms, logbooks and the sewing machine of Clem the Cobbler. Elton Clem was a crew member for over 20 years. Also in attendance was Elton's daughter Melinda Cooper and her family. Ken and Dorothy Jon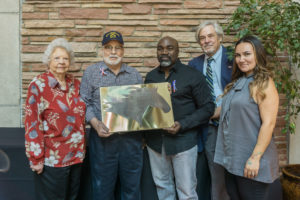 es traveled from Texas and Jack and Jean Paris came from California to be part of this event.
In addition to the artifacts at the UMC, a special plaque that will be mounted on the new USS Colorado was unveiled. The plaque contains the words of Ken Jones' challenge to the crew of the submarine to carry on the traditions of the battleship. The plaque was created and donated by the SMART (Sheet Metal | Air | Rail | Transportation) Local #9 in conjunction with Kloppenberg & Co. and Omni Elite Sheet Metal. In the picture John Fleck, Director of SMART's Apprenticeship and Training Institute, and Robert Ziegler of Omni Elite and his wife Shannon present the plaque to Ken and Dorothy Jones.
That evening the veterans and their families had dinner with Andrea Zelinko and Jimmy Baker of the UMC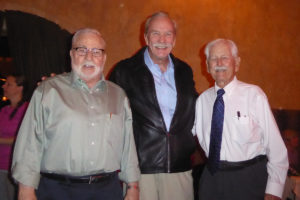 and George Lundeen. George is the renowned sculptor who is creating a special ship's bell as a give as a present to the submarine from the Battleship Association. The bell had to be recast with the year 2018 after the Commissioning was rescheduled. He presented a second copy of the bell that will reside in the Veteran's Memorial Lounge at the UMC alongside the bells that served on the previous three USS Colorado's.
The veterans were also invited to attend the CU – USC football game on Saturday.