It ta
kes about five years to build a Virginia class submarine. Submarines are now constructed in modules which are built at Newport News, VA and Quonset Point, RI. After the modules are constructed they are barged to the construction yard, which for COLORADO is Electric Boat Shipyard in Groton, CT. There the modules are assembled and systems are tested. For more information on the construction process visit this Undersea Warfare Magazine article.
There are three main events in a submarine's construction.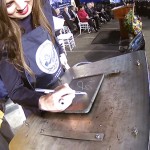 The first event is the Keel Laying Ceremony which traditionally celebrated the start of construction. Since submarines really do not have a keel and since the Virginia class submarines are constructed in modules, the Keel Laying Ceremony is typically held about mid-point in construction when one or more modules are available for the ceremony. The Ceremony has the ship's sponsor chalk her initials on a piece of steel. Those initials are then welded onto the steel by an expert shipyard welder and concludes with the remarks by the sponsor "I hold this keel to be well and truly laid." See more about COLORADO's Keel Laying Ceremony which was held on March 7, 2015.
The second major event is the Christening. The Christening is the traditional ceremony in which the ship's sponsor breaks a bottle of sparkling wine on the bow of the ship and formally names the ship by saying 'I christen thee COLORADO!. May God bless her and all who sail in her.". See more about COLORADO's Christening which was held on December 3, 2016.
After launching and christening USS COLORADO will spend several months pier side completing installation and testing of equipment. The final phase of construction is the at-sea trials termed the Alpha and Bravo Sea Trials during which COLORADO will first submerge and conduct numerous tests to prove she is ready for delivery to the Navy.
Alpha Sea Trials
First-time submergence
High-speed runs
Operations at test depth
Testing of most systems and components
Bravo Sea Trials
Final at sea testing
Completion of system and component testing
Demonstration of other capabilities
Once the sea trials are completed the COLORADO will be delivered to the Navy.
The final and most widely attended event is the Commissioning. For a naval vessel Commissioning is the act or ceremony of placing a warship in active duty with its country's military forces with the words "Man this ship and bring her to life". The shipyard will deliver COLORADO several weeks before the commissioning at the end of sea trials and all other construction testing. The Commissioning is currently anticipated to take place in late summer 2017.
More about the history and significance of Christening and Commissioning can be found at the Navy History and Heritage Command web site.