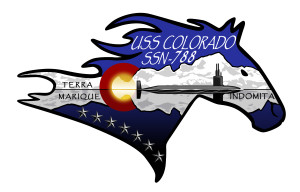 USS Colorado Commissioning Committee is proud to host a reception and fundraising event on April 8 at Balistreri Vineyards. We are honored to have retired Vice Admiral Jay Donnelly as our guest speaker. VADM Donnelly was a career submarine officer and was in charge of the U.S. Submarine Force upon his retirement in 2010. He is now an executive with Huntington Ingalls Newport News, one of the two companies that build Virginia Class submarines.
We will also have the Executive Officer and three additional sailors from the crew of COLORADO visiting us for this occasion.
Our emcee for the evening will be Steffan Tubbs of KOA Radio and Mountain Time Media.
There will be a celebration of the Submarine Force Birthday with a special cake and a small silent auction.
Sponsors for the event are Balistreri Vineyards, Left Hand Brewing and Navy League Denver Council
We hope you will be able to join us for this fun event.
Details:
Date: April 8, 2016
Time: 6:00 PM to 9:00 PM
Cost $48 per person
Location: Balistreri Vineyards, 1946 E 66th Ave, Denver, CO 80229
Come to learn more about the Colorado's submarine and the Submarine Force, mix and mingle with USS Colorado crew members and other USS Colorado supporters, and celebrate the Submarine Birthday!
Registration for this event is closed. Hope to see you at the next one