USS Colorado crew members Executive Officer Stephen Col, STS1(SS) Michael McKenna, and MMA2(SS) Eric Robinson paid a visit to Colorado in conjunction with the Committee's Gala and Auction on September 17th. The three crew members arrived on Wednesday the 14th. That evening they visited the monthly meeting of Rocky Mountain Base of the Unites States Submarine Veterans organization where they were greeted warmly by the veterans. They talked with many of those present, including WWII submarine veteran, Andy Palenchar.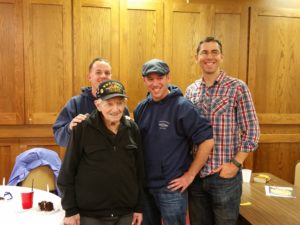 On Thursday they visited three NJROTC units in Colorado Springs at Doherty, Mesa Ridge and Widefield High Schools. They also visited NORTHCOM headquarter for lunch and a tour of the Command Center. They finished the day with a tour of Cogitic Corporation in Colorado Springs. The company is a precision manufacturer that makes critical parts for our submarines, including USS Colorado.
On Friday they started the day talking to an assembly of about 1500 students at Century Middle School in Thornton. During the school's "Constitution Day" an enthusiastic group of students listened as the crew members discussed the technology involved with making today's submarines operate and the importance of STEM education. For more information on this event see this article by Colorado Education Association.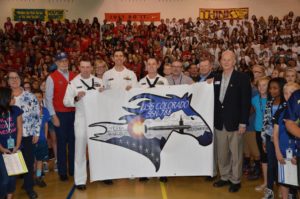 From there they visited the Gallery of Sculptor George Lundeen in Loveland. He has been commissioned by the Battleship Colorado (BB 45) Association to create a special commemorative ship's bell for SSN 788. There they were introduced to the sculptor's work including the method for fabricating the ship's bell.
For lunch they traveled to Estes Park to have lunch at the Stanley hotel with Mayor Todd Jirsa, Town Commissioner Cody Walker and Retied Navy Captain Dick Life, a resident of Estes Park. A visit to Left Hand Brewing in the afternoon completed their schedule for the day.
Saturday before the Gala they had an opportunity to visit the United States Air Force Academy in Colorado Springs.
Since their flight on Sunday was not until 11:59 PM, they were able to take in a Rockies game at Coors Field and be recognized on the field doing the 7th inning stretch. They invited Air Force veteran Jennifer Burch to join them on the field for the recognition.
It was another great visit by sailors from USS Colorado to the state. We are proud to be able to facilitate the out reach between the fine sailors of SSN 788 and the citizens and school children of Colorado.